Another fantastic edition of FOSDEM is now finished. Many thanks to the organisers for another great job!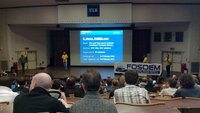 Amazingly, the Welcome talk managed to top off last year's FOSDEM dance, this time by making the audience contribute the music. I hope they do it again next year, it was kind of fun smashing hands on the wooden board (middle row, yep!)
Many stands, a ton of talks, even more people than last year. Some dev rooms remained closed because full for most of the conference, but surprisingly if one carefully planned which talks to attend and made sure to be there a little early, it was usually possible to get in and even grab a seat.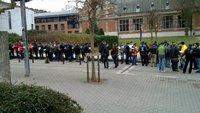 I'll post short summaries of some of the talks I attended. This year I took notes on my phone (my lovely *lovely* N900) for all talks but one. I also took more pictures, which is great (although the quality of the pictures isn't always). Looks like getting the phone out to snap a pic is less of an effort than having an actual camera to carry around, get out of the case etc.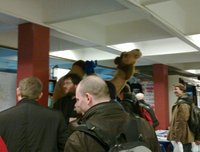 This was my 3rd FOSDEM and this time I spent a bit more time on the social aspect, sometimes even skipping talks (gasp!) I cared a little bit less about to chat with interesting people. This is great, though it made the conference quite a bit more exhausting. Must balance better -- and find a nice hotel in a quieter neighbourhood.
Once again delighted with the experience. Until next year, FOSDEM! :)